Updates on EIDL Program and PPP from Guam SBA (as of 4/16/2020)
EIDL Program - "The Advance monies are beginning to filter into business bank accounts! If a business requested for the $10K Advance, they should have received a email letter from SBA indicating that the funds would be deposited into their account. The Advance will provide $1,000 per employee up to a maximum of $10,000 (see 4/9/2020 letter here). If a client has any questions pertaining to their application, they are encouraged to contact SBA's disaster assistance customer service center at 1-800-659-2955 (TTY: 1-800-877-8339) or e-mail disastercustomerservice@sba.gov and reference their application number to expedite the process.
PPP Program - SBA provided a snapshot of the PPP loan activities nationwide (see here). Below is a summary of the numbers
Nationwide – Loans Approved (1,035,086) – Gross Dollars Approved ($247,543,393,521) – Lender Participating (4,664)
Guam - Loans Approved (238) – Gross Dollars Approved ($53,659,254) – Lender Participating (7)
CNMI - - Loans Approved (29) – Gross Dollars Approved ($7,540,546) – Lender Participating (4)

Here is information about the PPP Interim Final Rule, FAQ for PPP, and Affiliation Rules for PPP.
🠲🠲🠲Insider Tip: If you have not already applied for the PPP, gather your documents and still talk to your preferred lender or apply online ASAP (Here are our list of local lenders). SBA processes applications in the order they receive them, and it may put you ahead in the hopeful chance more funding is added by Congress. For the EIDL, you won't be able to apply unless they reopen the portal.
Other Resources Shared by our CNMI SBDC:
USDA's COVID-19 Federal Resource Matrix states technical assistance, training, financial, and local resources available for qualifying businesses, nonprofits, and public agencies.
SBDC Guam's Quick Survival Guide for Businesses on Lockdown
SBDC Guam's Marketing Survival Guide
Constant Contact Small Business Support Kit
🠲🠲🠲FREE BUSINESS GRANT - As part of the initiative, the U.S. Chamber of Commerce Foundation has launched the Save Small Business Grant Fund to provide $5,000 supplemental grants to small employers.
The Save Small Business Fund is a grantmaking initiative offering short-term relief for small employers in the United States and its territories.
The CNMI is in an eligible location, and the only other requirements are that you send your W-9 and that you have 3 - 20 employees.
The application will become live on April 20th, but register here to get notified when the application becomes live.
🠲🠲🠲While the CARES Act provides much-needed loans and loan guarantees to businesses, they must consider the corporate governance issues associated with accepting such help. The U.S. Chamber's Center for Capital Markets Competitiveness (CCMC) is dedicated to helping businesses assess these implications as they determine the best path forward.
CCMC created a guide to help businesses navigate the requirements and restrictions that come with accepting relief through loans or loan guarantees under Section 4003 of the CARES Act.
Additionally, CCMC hosted an interactive webinar to help Chamber members better understand the financial assistance programs, as well as help anticipate the growing list of proposals that may be contemplated as part of the next phase of crisis response legislation. Watch the recording here.
🠲🠲🠲 Read here: Coronavirus Small Business Tax Changes: Everything You Need to Know.
🠲🠲🠲 Read here: US Commerce Coronavirus Small Business Guide, a full website of resources for your small business.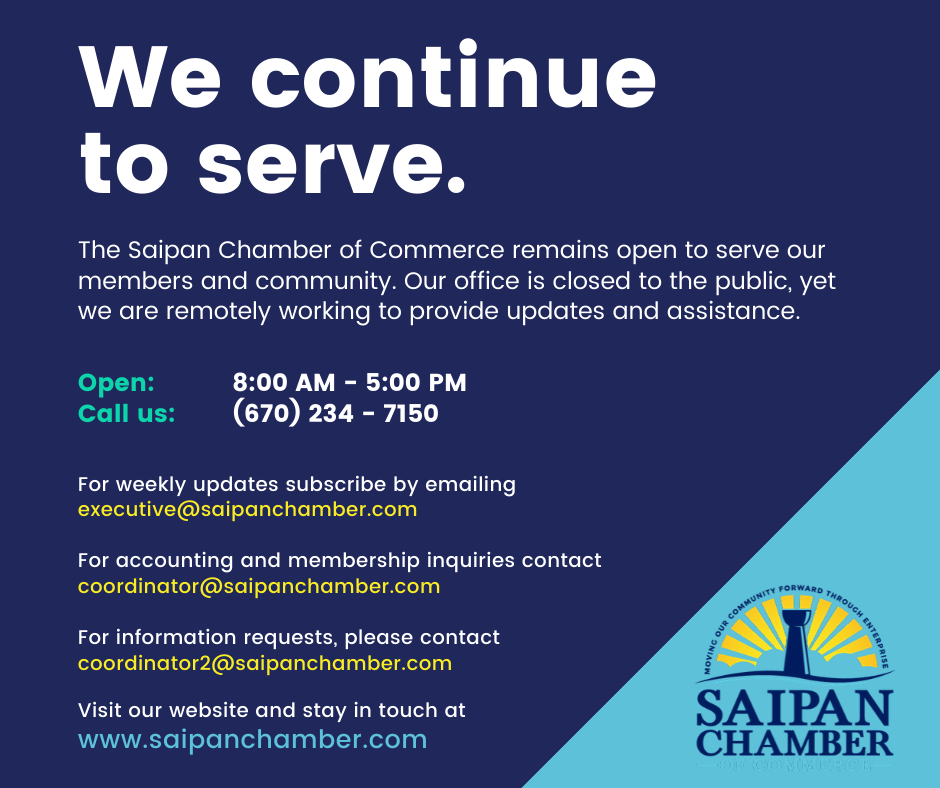 Department of Commerce Has Released Online Survey for Prevailing Wage Survey (Fill Out Before June 30)
On behalf of Secretary Rabauliman, SCC asks for your assistance by completing the CNMI 2020 Prevailing Wage Study (2020 PWS) survey by June 30th 2020.
The data collection portal is available for businesses and employers to log on and complete the 2020 PWS survey questionnaire: http://cnmidata.commerce.gov.mp/
We ask that every business and employer, private and public, with or without employees, log on to the portal and complete the 2020 PWS survey questionnaire. Should you have any questions or need further clarifications, please do not hesitate to email them to our Prevailing Wage Study Survey Project at cnmi.csd@commerce.gov.mp or you can all us at 322-3005 or 322-3007, Monday to Thursday, 7:30am to 4:30 pm.
For more information on steps, read the press release here.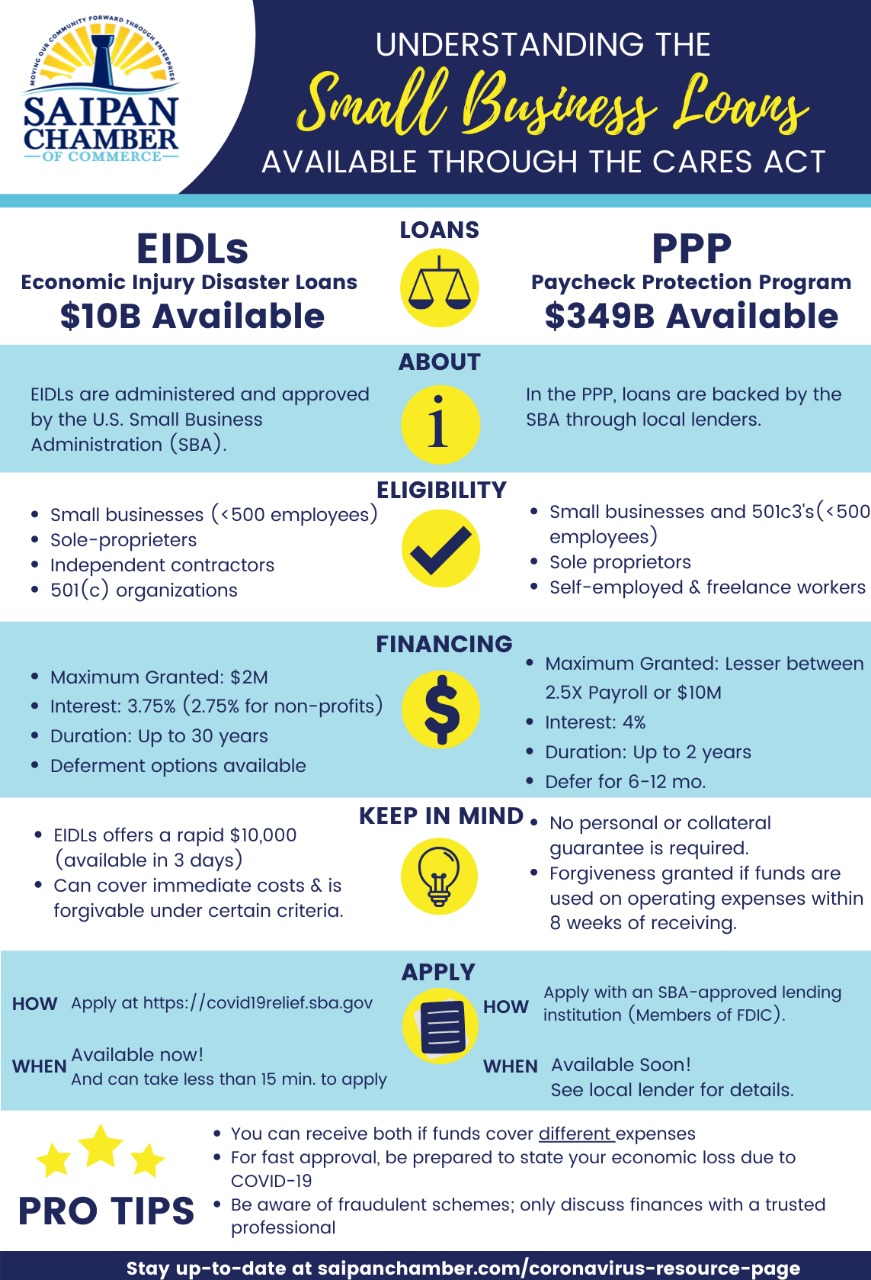 Chamber Member Directory Listing
Please visit the following sites for health updates on COVID-19.
Follow us on Facebook!
Follow us on social media for more updates.