Welcome to the Saipan Chamber of Commerce!
Our vision is to create an island where business, family, and community succeed as one.
TESTED AND OPEN FOR BUSINESS?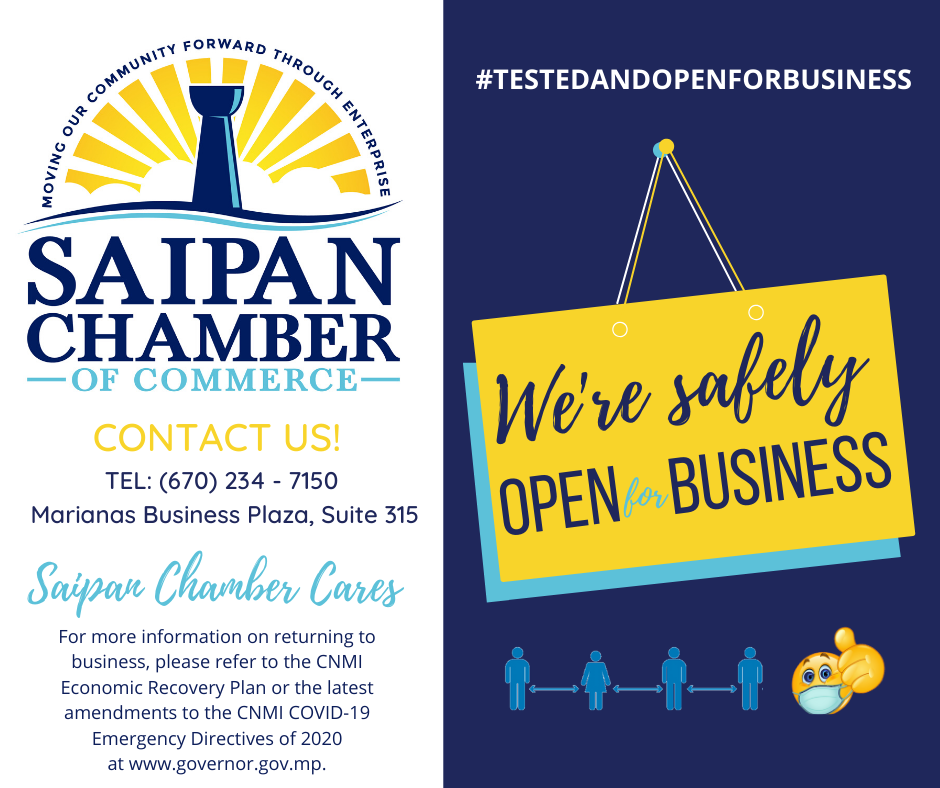 Join Our Saipan Chamber Cares Campaign
These past few weeks have been challenging, and we hope that you are safe and healthy amid the COVID-19 pandemic. As the state of this public health emergency changes from day to day, the we know our Chamber members remain focused on keeping our employees and our customers safe, healthy, and informed.
As our business collective, we are encouraging all of our businesses to celebrate that they are #TestedAndOpenforBusiness.
As we move closer to community level "Code Blue" with more businesses allowed to open their doors and fewer restrictions to the public, we want the community to know its safe to enter your establishments as we encourage local commerce.
Here's How You Can Participate in the Campaign
Ensure all of your employees have been tested for COVID-19.
Then, you have two options:
Simply download our graphic provided and include your logo and share. Download this!
Send us your logo and business information and we can do it for you! (Email coordinator2@saipanchamber.com)
Make sure you include #TestedAndOpenForBusiness #SaipanChamberCares and #SupportCNMIBusinesses in your post!
Learn how your investment in the Chamber gives back to our community through the Saipan Chamber Signature programs.
See upcoming opportunities for personal and professional development. Take your company to the next level!
Get Involved!
Be a part of the conversation and have a voice in our business community. Join any of our Chamber Committees:
Government Relations
Business Advancement
Sustainable Economic Development
Education & Workforce Development
Armed Forces Committee
Saipan Young Professionals
Membership
Events