register before august 3rd and save money and time! Download the forms below.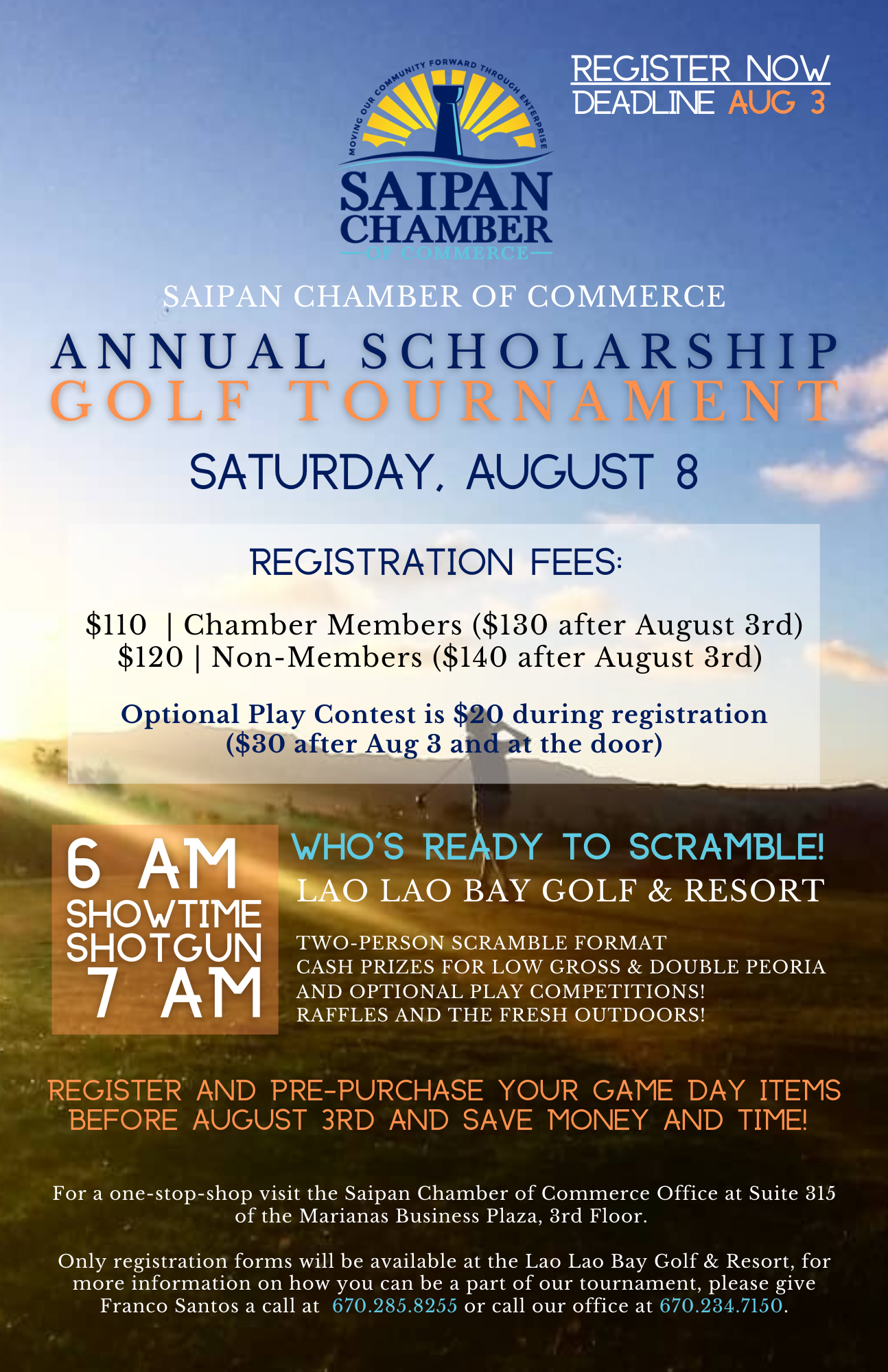 The Saipan Chamber of Commerce (SCC) and golfers will enjoy the fresh outdoors during the 2020 Two-Man Scramble Scholarship Golf Tournament on August 8th at Lao Lao Golf & Resort, West Course!
The SCC Scholarship Tournament was previously postponed in April due to COVID-19. As the community maintains Vulnerability Level at BLUE, the SCC plans to host the tournament in August to raise money for scholarships for high school, college, and vocational students.
Men and women of different skill levels will have a chance at amazing cash prizes: 1st place - $800, 2nd place - $650, and 3rd place - $500 for two categories: Team Gross and Team Double Peoria. There will be additional Optional Play Contests for Closest-to-the-Pin (4) and Aggressive Drive (1), with $150 cash prizes each. Golfers will also enjoy complimentary swag bags courtesy of our Chamber members, on-course snacks and refreshments, and post-tournament refreshments.
SCC has implemented COVID-19 procedures to ensure the safety of golfers, which includes issuing pre-tournament registrations packets to alleviate crowding the morning of the tournament, as well as only allowing one (1) golfer per cart. Full COVID-19 procedures can be found in the registration form.
Proceeds of the event are instrumental in supporting the Saipan Chamber Scholarship Program. The Chamber is pleased to have the continued support of its generous members, golfers, and volunteers, and SCC looks forward to hosting an exciting event for a good cause!
Is your company a member?
Click the link provided for our Chamber Member Directory!