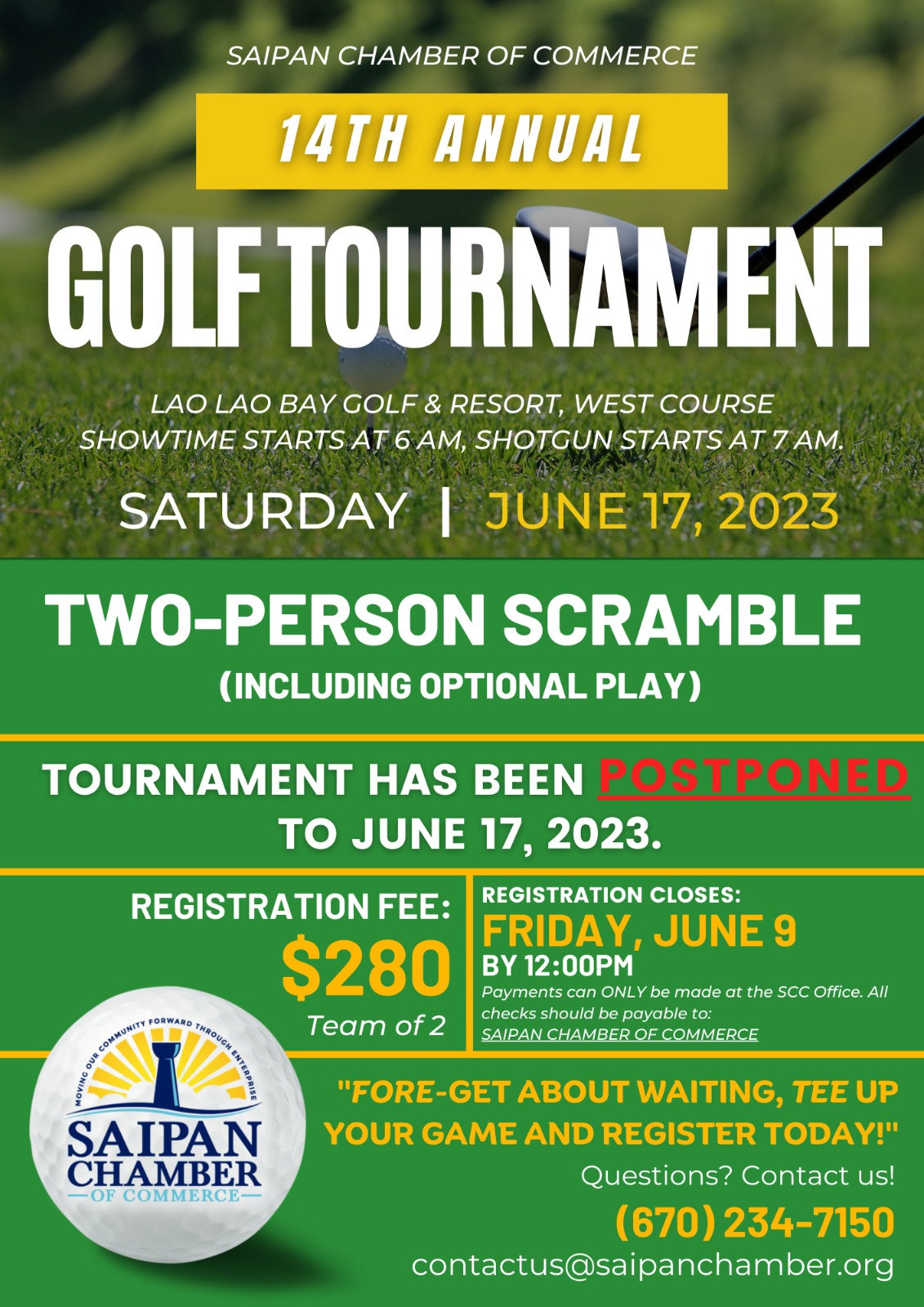 Announcement: 14th Annual Golf Tournament Postponed! 
Due to current weather conditions and logistical matters, we have made the decision to postpone our highly anticipated 14th Annual Golf Tournament. But fear not! This means you now have more time to register, plan ahead, and get ready for an amazing day on the greens! 
We understand that unforeseen circumstances can disrupt plans, but let's turn this delay into an opportunity. Take this extra time to gather your team, perfect your swing, and rally your friends and colleagues to join you in supporting this important cause. 
By participating in our tournament, not only will you enjoy a fantastic day of golfing, networking, and making new connections, but you will also be making a significant difference in the lives of college students facing financial shortfalls. Every swing you take helps fund our Annual Chamber Educational and Trade Scholarship program, empowering young minds and investing in the future of our community. 
So, don't let this minor setback dampen your spirits. Instead, use it as motivation to hit the fairways with even more enthusiasm and determination when the new tournament date is announced. Stay tuned for updates and be prepared to tee off in style! 
Together, we can make a lasting impact and support our youth in their pursuit of higher education. Let's swing into action, show our support, and make this tournament a resounding success! 
Men and women of different skill levels will have a chance at amazing cash prizes: 1st place - $800, 2nd place - $650, and 3rd place - $500 for two categories: Team Gross and Team Double Peoria. Add a little competition with Optional Play Contests for a chance to win $150 in cash prizes per contest. Golfers will also enjoy complimentary swag bags courtesy of our Chamber members, on-course snacks and refreshments, and post-tournament refreshments.
The tournament is scheduled for Saturday, June 17, 2023, with showtime at 6:00am and a shotgun start at 7:00am. Tickets for amazing raffle prizes are available for purchase during registration and throughout the tournament.
Registration forms for players are available  at  Lao Lao Bay Golf & Resort (Front Desk), and the Saipan Chamber of Commerce Office located at the Marianas Business Plaza, 2nd Floor, Suite 201-A. SCC encourages golfers to submit their forms and fees before June 14th at the Chamber Office, where registrants can easily pay for registration and raffle tickets before the tournament to ease their day-of check-in and help promote social-distancing measures.
The Chamber is pleased to have the continued support of its generous members, golfers, and volunteers, and SCC looks forward to hosting an exciting event for a good cause!
Stay tuned for further announcements and thank you for your unwavering support. We can't wait to see you on the course!
----------
For more information about the event or SCC, visit our office in the Marianas Business Plaza Room 201-A (Susupe), or contact Riley Buenaventura at r.buenaventura@saipanchamber.org or call our office at 670 – 234- 7150.
Support of this event goes toward:
Saipan Chamber of Commerce annual Scholarship Program. 
2023 Scholarship Golf Tournmament Gallery