EARLY BIRD REGISTRATION DEADLINE -MAY 7! 
$120 GENERAL PLAYER FEE ($130 AFTER MAY 7) | OPTIONAL PLAY CONTESTS $20 ($30 AFTER MAY 7)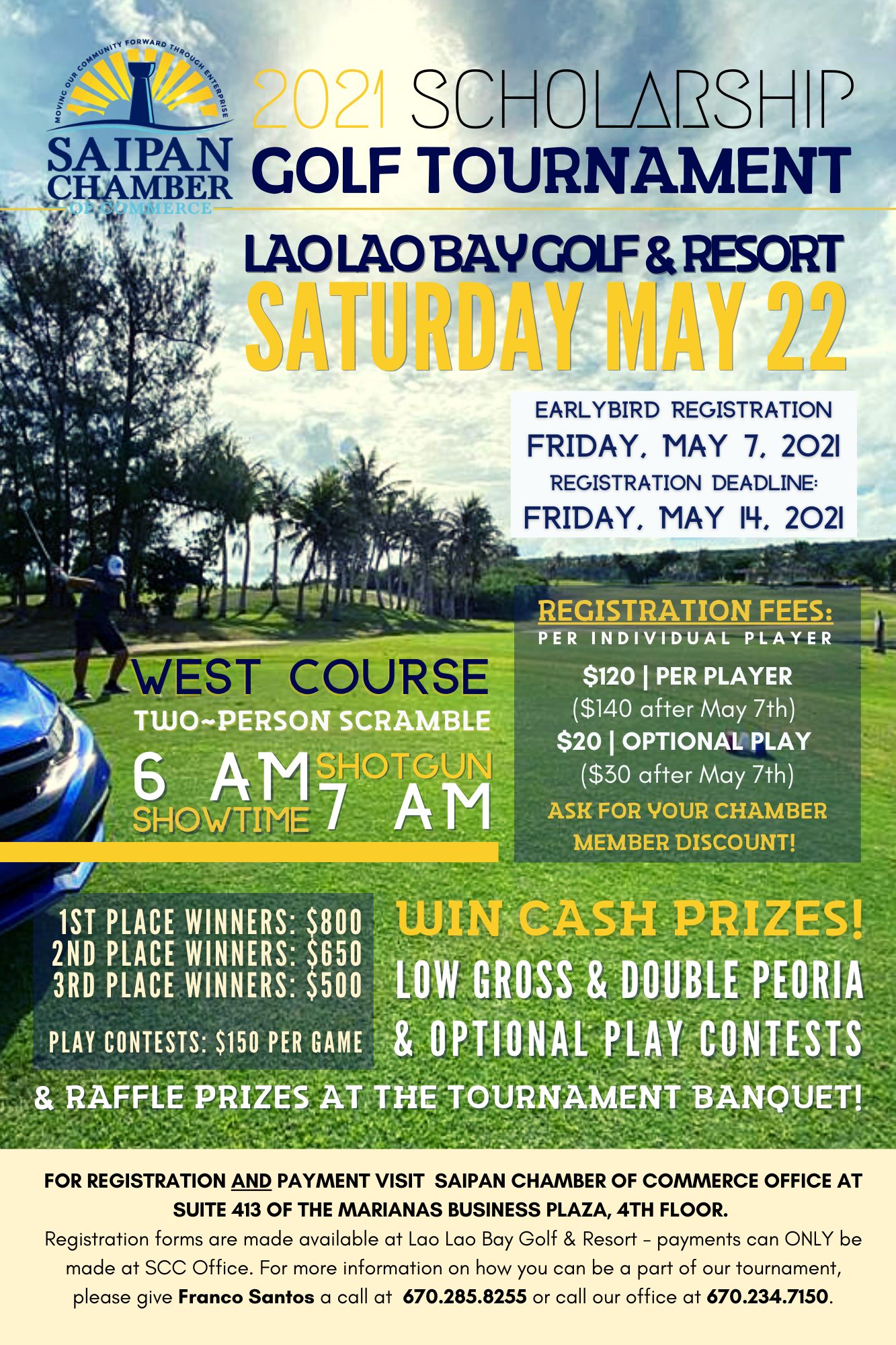 Saipan Chamber of Commerce (SCC) Two-Man Scramble Scholarship Golf Tournament is set for Saturday, May 22, 2021, at the Lao Lao Bay Golf & Resort – West Course! The annual fundraising event provides financial support for the Saipan Chamber Scholarship Program, which awards local students seeking higher education to better contribute to our community.
Men and women of different skill levels will have a chance at amazing cash prizes: 1st place - $800, 2nd place - $650, and 3rd place - $500 for two categories: Team Gross and Team Double Peoria. Add a little competition with Optional Play Contests for a chance to win $150 in cash prizes per contest. Golfers will also enjoy complimentary swag bags courtesy of our Chamber members, on-course snacks and refreshments, and post-tournament refreshments.
The tournament is scheduled for Saturday, May 22, 2021, with showtime at 6:00am and a shotgun start at 7:00am. The registration fee for general public is $120/per person ($140 after May 7th). Chamber members and their scramble partners will enjoy a discounted rate of $110/member ($130 after May 7th). Tickets for amazing raffle prizes are available for purchase during registration and throughout the tournament. Save time and money when you sign up before May 7th with an additional $10 off the Optional Play Contest!
Registration forms for players are available for download at www.saipanchamber.com/our-events, Lao Lao Bay Golf & Resort (Front Desk), and the Saipan Chamber of Commerce Office located at the Marianas Business Plaza, 4th Floor, Suite 413 (Blue Door). SCC encourages golfers to submit their forms and fees before May 14th at the Chamber Office, where registrants can easily pay for registration, raffle tickets, and optional play contests before the tournament to ease their day-of check-in and help promote social-distancing measures.
SCC has implemented COVID-19 procedures to ensure the safety of golfers, which includes issuing pre-tournament registration packets to alleviate crowding the morning of the tournament. Full COVID-19 procedures can be found in the registration form.
The Chamber is pleased to have the continued support of its generous members, golfers, and volunteers, and SCC looks forward to hosting an exciting event for a good cause!
----------
For more information about the event or SCC, visit our office in the Marianas Business Plaza Room #413 (Susupe), or contact Franco Santos at coordinator@saipanchamber.com or call our office at 670 – 234- 7150.
Support of this event goes toward:
Saipan Chamber of Commerce annual Scholarship Program.